Future Women is an
inclusive,
member-led organisation committed to achieving gender equality in Australian workplaces.
We support our members in their career endeavours, train the men they work with, and guide the employers they work for.
It's time we made a gender equal world - a reality.
"We offer a safe, respectful environment where debate, discussion and difference are celebrated."
—HELEN MCCABE, CEO AND FOUNDER

We launched, in 2018, with a promise to help women connect, learn and lead. Today we talk to millions of women every year, through our books, podcasts, essays, training and development programs, live interviews and in-person events. 
Future Women members join as individuals or through a program purchased by their boss. We also work actively to support members who face disadvantage and discrimination, in particular First Nations women. 
A Future Women membership offers a range of activities, from mentoring and job connections to intermediate and advanced leadership and media training. Members also attend our International Women's Day Summit, one of the most significant events in our calendar, delivered in person and online.
Members are most likely to be among Australia's two million professional women. But we include men too. Since the beginning, men have joined and been welcome in our community. Today we work with dozens of public and private sector organisations, and support men to be better, and more gender inclusive leaders.
Future Women is a safe, respectful environment where debate, discussion and difference are celebrated. We are more interested in our members' attitude than their age. We are inclusive, and proud of the fact our members care about one another's personal and professional success.

It's time to make a gender equal world, a reality. Will you join us?
HELEN MCCABE
MANAGING DIRECTOR
Journalist, magazine editor and digital media executive.
Helen was Editor-in-Chief of The Australian Women's Weekly, Deputy Editor of The Sunday Telegraph and spent more than a decade working in television before founding Future Women in 2018.
Helen also hosts FW's weekly Leadership Series podcast, featuring stories of influential women who lead.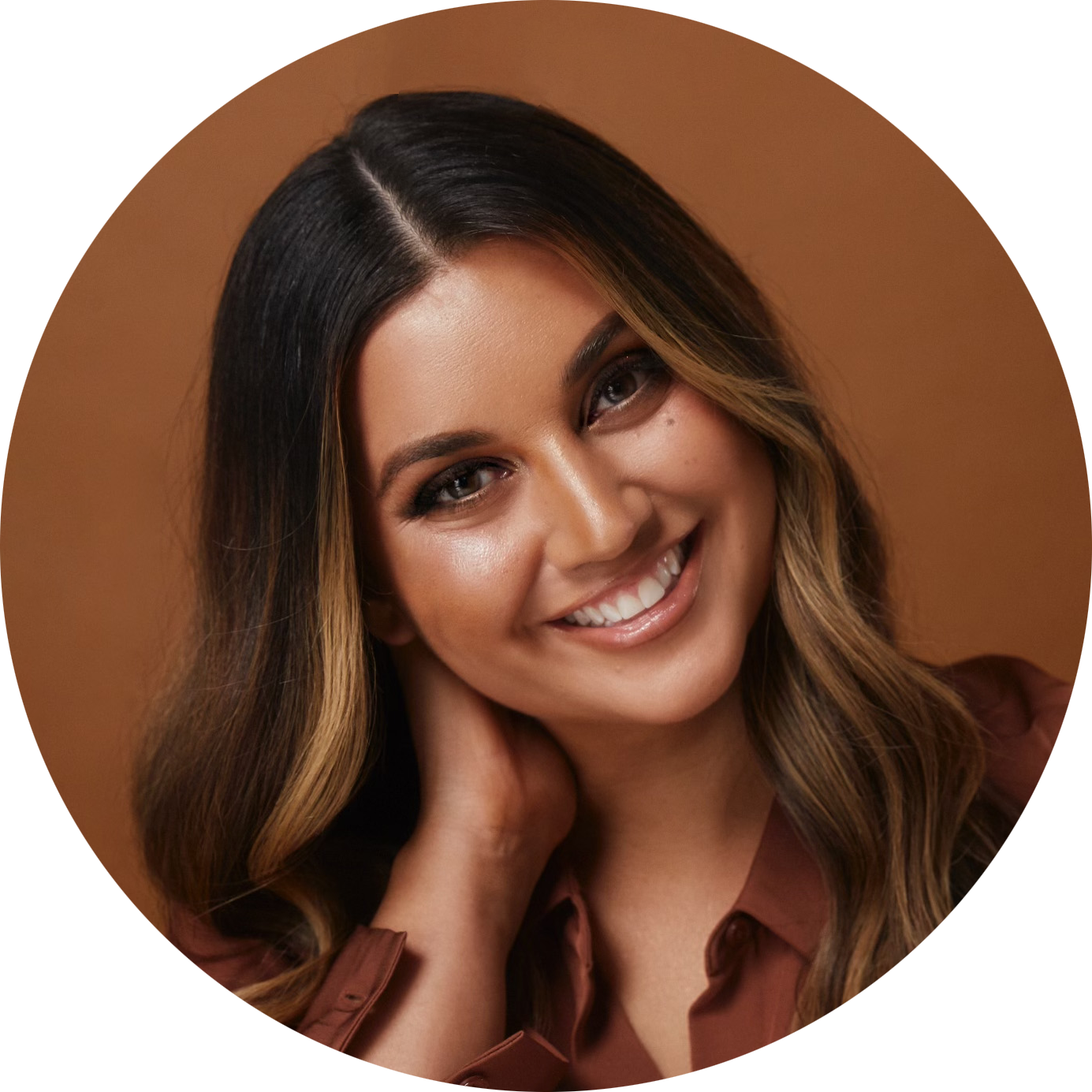 JAMILA RIZVI
DEPUTY MANAGING DIRECTOR
Best-selling author, opinion columnist, podcast host and gender equality advocate.
Previously, Jamila advised the Rudd and Gillard Governments on gender equality, early childhood education, media and employment participation.
Jamila is also a board member of the Wheeler Centre for Books, Writing and Ideas, and an ambassador for PLAN International.
DYMPHNA JAMES SCOTT
COMMERCIAL DIRECTOR
Dymphna's extensive commercial background includes senior roles at media agencies Initiative & Mediacom and Commercial & Advertising roles at Time Warner, Seven West Media & Hoyts Group.
Dymphna's unique skills have consistently driven new business partnerships delivering growth, better-than-market performance and impressive management innovation.
KATE NERONI
CHIEF OF STAFF
Leader, key advisor and resident problem solver.
Kate thrives in dynamic, fast-paced environments and is adept at high-level strategic thinking.
She brings expert cross-platform development and critical thinking to her work at FW, having launched her career as Executive Assistant and Office Coordinator at Bauer Media.
BECKY HANSEN
HEAD OF JOBS ACADEMY
Project lead, people manager and passionate community organiser, with more than 10 years' experience in the public and private sector.
Rebecca is dedicated to creating people-focussed programs with social value, like Jobs Academy which helps support women returning to work.
EMILY JOYCE
HEAD OF PARTNERSHIPS
Writer and digital advertising specialist, Emily started her career with some of Australia's leading ad agencies.
When she's not wrangling her kids, she's finding time to recharge with the beloved women in her life, running to very loud music, or searching for the nearest quiet corner.
ALEXANDRA GRANT
HEAD OF GOVERNMENT RELATIONS
Strategic manager and government relations specialist, with a background in economics, social policy and gender.
During her impressive career with the Australian Public Service, Alex worked on landmark policy including the establishment of the National Skills Commission and JobTrainer, and co-authored the first Australian National Action Plan on Women, Peace and Security.
MELISSA WELLHAM
HEAD OF ONLINE LEARNING
An experienced digital and communications professional, Melissa specialises in creating data-driven, customer-first programs for behaviour change.
With a background in social change organisations, and qualifications in customer experience strategy and analytics, she heads up an incredible team to develop leadership programs that build gender equal workplaces.
RUBY LEAHY GATFIELD
HEAD OF RESEARCH & INSIGHTS
Researcher, evaluator, and facilitator, with a passion for driving gender equality through research and evidence.
Prior to joining Future Women Ruby was a senior adviser at the federal Workplace Gender Equality Agency, building on a career in public policy consulting.
Ruby is committed to ensuring diverse communities have a voice in the programs and policies that effect their lives.
TARANG CHAWLA
DIRECTOR OF DIVERSITY AND INCLUSION PROGRAMS
Domestic violence campaigner, advocate and lawyer.
Tarang is co-founder of charity Not One More Niki, Australia's largest campaign to end violence against women in culturally diverse communities. He is also a Multicultural Commissioner and board member of the Australian Republic Movement.
MADDEN BURNS
HEAD OF PLATINUM+
Project management and stakeholder engagement specialist, with experience across public and private sectors.
Madden specialises in gender equality and social impact, having worked as a senior adviser to the federal Workplace Gender Equality Agency.
In 2020, Madden was selected to sit on the UN Women Sydney Committee.
CHRISTINE ELLEM
SCHOLARSHIP AND SPECIAL PROGRAMS DIRECTOR
Program Director with a focus on higher education, including academic and equity program development and delivery.
Christine has 14 years' experience working in the tertiary education industry and brings considerable skills in teaching, research and publication to the Project Return team.
PATTI ANDREWS
CREATIVE DIRECTOR
Artist, designer and creative, Patti left the world of magazines behind to join Future Women, prior to its founding in 2018.
Having left her mark on publications like DOLLY, Harper's Bazaar and GRAZIA Magazine, Patti brings a unique blend of logic and creativity to her iconic artwork.
She's passionate about truly connecting with community through design and creating art that makes people feel good.
SOPHIE HUNTER
SENIOR ART DIRECTOR
Designer and artist, Sophie began her career with advertising heavyweights Guihen Jones Creative Agency.
Having worked on publications like Mother & Baby, DOLLY and ELLE, Sophie brings a fresh perspective to her creations and lives to see her artwork 'out in the wild'.
SALLY SPICER
SENIOR CONTENT PRODUCER
Journalist, podcaster and social media specialist, Sally farewelled the glitz of breakfast radio to join Future Women's content team.
A passionate domestic abuse and social justice advocate, Sally was the Executive Producer of FW's highly successful podcast, There's No Place Like Home.
She loves a deadline and is an expert at conceptualising and producing multimedia content across a range of platforms.
BOJANA KOS
SENIOR CONTENT PRODUCER
Writer, editor and digital content specialist, with over ten years' experience in media, communications and public relations.
Bojana is passionate about advancing social justice by telling deeply personal and human stories in new and creative ways.
When she's not desperately searching for the perfect word or phrase, she can be found with her nose buried in a book.
ALICE MONFRIES
COMMUNICATIONS MANAGER AND HOST
Alice Monfries is an award-winning journalist and presenter with the Nine Network.
She is based in the network's Adelaide newsroom, covering breaking news and reporting live across Australia on the network's 6pm nightly bulletins, daytime national bulletins and the Today Show.
ISABEL NAKONIECZNY
PROGRAM AND REPORTING MANAGER
Analyst and customer experience specialist, with a unique perspective on research-driven strategy and data analysis.
Isabel brings a background in consulting with a focus on finance technology to her role with Jobs Academy and deejays in her spare time.
INDIA BAILEY
JOB CONNECTIONS MANAGER
Programs manager, with a knack for forging strong stakeholder relationships and providing employers with a unique pipeline of talented candidates from Jobs Academy.
India is dedicated to supporting women returning to meaningful work and building fulfilling careers.
ELLA JACKSON
CROSS-BUSINESS LIAISON
Project manager, specialising in equity, diversity and inclusion. 
Ella brings considerable skills in strategy and advocacy to the Jobs Academy and Future Women teams, having pushed for structural reform in sexual-assault policy across residential colleges and university structures at the University of Melbourne. 
MADISON HOWARTH
ONLINE LEARNING MANAGER
A proud Wonnarua and Yuin writer, with a passion for storytelling through a First Nations lens. 
Having recently completed a Bachelors of Media with Distinction at UNSW. Madi's work has been published in NME, The Sydney Morning Herald, The National Indigenous Times, Women's Agenda, 9Honey and Junkee.
AMY MCCABE
MENTOR MANAGER
As Mentoring Manager, Amy loves linking Future Women members with experts and leaders to help them thrive. Hailing from a farm in South Australia where she grew up with three brothers, Amy isn't afraid of a hard day's work.
Amy is highly analytical and loves to solve difficult problems - a skill that her colleagues are endlessly grateful for. If she's not working, she's probably doing something sporty.
SONIA LIN
EXECUTIVE OFFICER
Business and management specialist, with a track record of performing in dynamic environments. Sonia joins Future Women after having worked at one of Australia's most established family offices and investment companies.
Her idea of unwinding is going for a run or listening to a podcast (or doing both at once).
ASHA BOWDITCH-BROWN
PROGRAMS COORDINATOR
Programs and project manager with a passion for equality and social change.
Asha is also studying Gender Studies at the University of Melbourne and flexes her creative skills by drawing, painting and learning to play musical instruments.
LAURA DAWSON
ACCOUNT DIRECTOR
Business development expert, presenter and children's performer.
Laura combines her proven skills in communications with a passion for value-based selling.
When she's not ensuring clients are supported to reach their ideal outcomes, Laura can be found performing with award-winning band, The Beanies.
KATHLEEN LA RANCE
JUNIOR ACCOUNT DIRECTOR
Sales and business development coordinator with a background in marketing and economics. 
Kathleen enjoys using her creative skills to solve problems and engaging with clients to find best-fit solutions. 
SAKURA MCCORKELL
PROGRAMS COORDINATOR
Project coordinator with a passion for creating meaningful experiences for participants in the Change Makers program.
Sakura is currently completing a Bachelor of Commerce at the University of Melbourne, and can be found testing new recipes, playing Aussie rules and honing her Japanese skills in her spare time.
Want to become a sponsor, partner, speaker, or just say hello?